About Jacob
Jacob Spin was born in Amsterdam on Thursday, April 24th, 1806, as the eldest child of Henry Spin and Jannetje Heutinck. Sunday, 27th April thereafter he was baptized in the Oosterkerk. Besides his parents, his grandparents Jacob Spin and Femmetje Helmers were also present at the baptism. They acted as the witnesses.

In the following years, Jacob gets two sisters: Anna Margaretha is born on August 2nd, 1808 and Jansje on April 18th 1810.

Father Hendrik earns a living as a bricklayer servant, so the family of Hendrik Spin wasn't rich. On November 30th, 1813, disaster strikes when Hendrik dies. Jacob is 7 years old then.

On May 10th, 1820 mother Jannetje marries Christiaan Andreas Schmidt, who works as a bartender in a pub at the Martelaarsgracht. Schmidt also is a widower and the family will be living at the Martelaarsgracht.

The pub still exists and is known as the oldest pub of Amsterdam; it is now the well known "Café Karpershoek".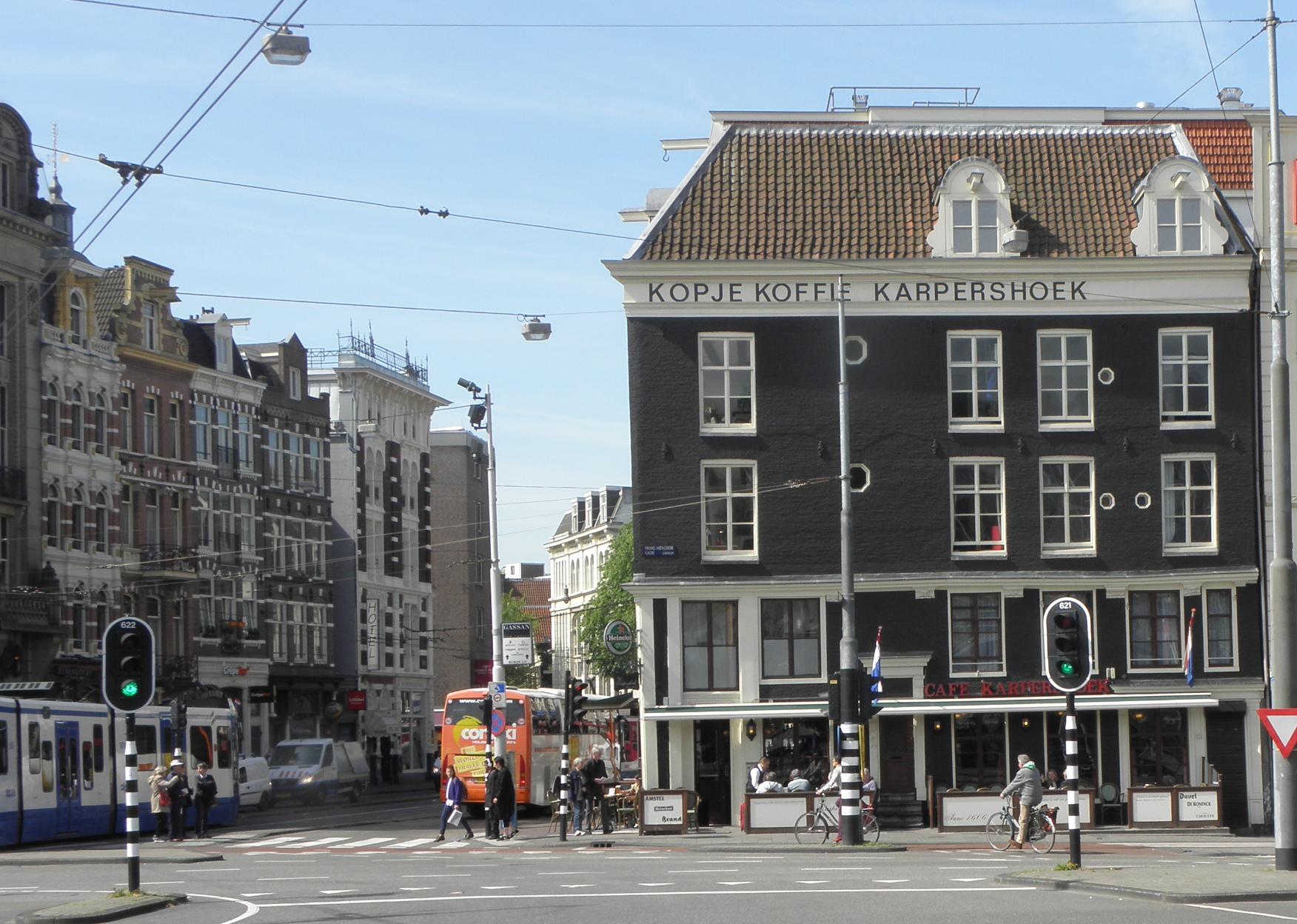 "Café Karpershoek" on the corner of the Martelaarsgracht and the Prins Hendrikkade

From the "Haringpakkerij", a part of what is now known as the "Prins Hendrikkade", Jacob Spin sees the ships arriving at the IJ and sail back to strange and far away places. Perhaps his interest to become a sailor starts here. When he is 18 years old, he embarks as a sailor on the frigate "De drie gebroeders of Amsterdam."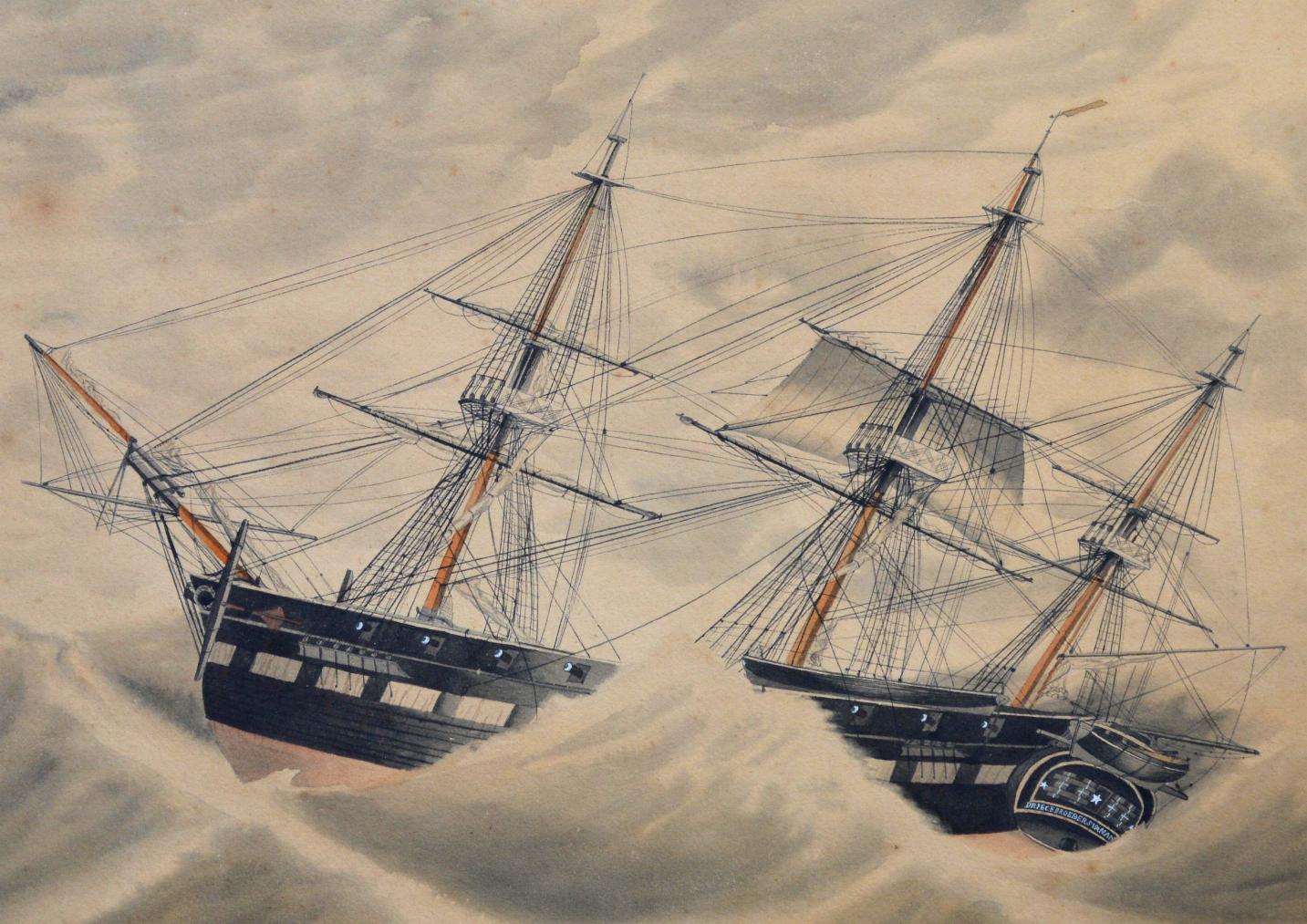 Picture made in 1824 of the frigate "The Drie Gebroeders" by Jacob Spin, the first ship on which he sailed

During his travels he makes drawings of the ships on which he sails or which he sees in Harbours an on the Oceans. His production until 1837, however, isn't very large.
On November 20th, 1831, his stepfather Christiaan Andreas Schmidt dies. Because Jacob still lives with his mother and stepfather, he signs together with his brother in law Michael Ernst Schlie who is married to his sister Anna Margaretha, for the declaration of death in the Civil Registry.

The following year, on Wednesday, November 28th, 1832, Jacob marries Elisabeth Maria Smits. They live at the Brouwersgracht. On the wedding one of the witnesses is the new partner of his mother: Dirk Cornelis Kaptijn. His mother marries him on May 23rd, 1833 and is going to live in Loosdrecht.

In Jacob Spin's family at the Brouwersgracht Jansje was born on July 8th, 1833, their first daughter. The child unfortunately dies that same day. A year later, on July 2nd, 1834, Elisabeth Wilhelmina is born. Fortunately, this time all went well.

Jacob and his wife Elisabeth have a total of ten children. Five of these children unfortunately became less then a year old. Although infant mortality in the nineteenth century often occurred, this will surely have given a lot of grief in Jacob's family.

The Spin family moves frequently, but remains to live near the Brouwersgracht or in it's immediate vicinity there for the rest of their lives.
Only at the birth of the twins Henry and Jacob, on November 12th, 1843, Jacob lives with his wife and children in Amsterdam at a different place. The family lives at the "Kadijkseplein" number 9, right in front of 's Lands Zeemagazijn; the building which now houses the Maritime Museum in Amsterdam.
Jacob is not present at the birth of the twins, he is at sea.
Both children die before their first birthday.

There are strong indications that Jacob Spin could not live from making these ship portraits until around 1850. From that time on his given profession was "ship painter" instead of "sailor".

On August 9th, 1853, Jacob junior is born. This is the last child that Jacob and Elisabeth will have. On October 20th, 1856, Jacob's wife dies. With four daughters, the oldest then twenty-two years of age, and a three year old son Jacob Spin will have to manage the household.

Jacob junior dies on September 18th, 1870, when he is just seventeen years old.

The oldest of the four daughters, Elisabeth Wilhelmina, marries on July 21st, 1858, in Amsterdam with the blacksmith Willem Frederik Hoogendijk. They have one daughter, born on Tuesday, September 28th, 1858. She is named Francina and is Jacob Spin's first born grandchild. His daughther Elisabeth Wilhelmina dies on July 8, 1862.

Daughter Anna Maria marries on April 21th, 1864, in Amsterdam with a furrier from Germany named Gottlieb Wilhelm Weigel.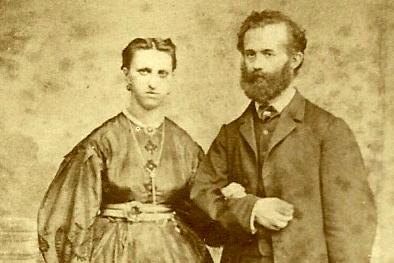 Notice of marriage photo of Anna Maria Spin and Gottlieb Wilhelm Weigel

The family Weigel will get no less than twelve children. Jacob has been able to enjoy on his old age of the four oldest children who stayed alive.

Jacob's youngest daughter Sara Johanna Magdalena marries on September 4th, 1873, again in Amsterdam, with the diamond cutter named Hendricus Johannes Kuijper. This couple has no children.

Daughter Jansje doesn't get married and takes care of her father until his death on Thursday, June 3rd, 1875.
The obituary in the "Algemeen Handelsblad" of June 8th, 1875, reads:



The obituary at the "Algemeen Handelsblad" of June 8th, 1875

After the death of Jacob Spin the commercial sailing disappears by the advent of the steamship: the end of an era.